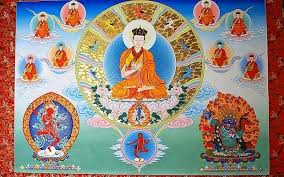 On this course you can practice and learn about our main exercises.
While we are having an 8th Karmapa course there will also be explanaitions on the Foundational Practices with travelteachers.
The four Foundational Practices (Ngöndro)
consist of four meditations done one after another. Each of them are repeated 111.111 times. They prepare one's mind for more advanced meditation.
The Guru Yoga on the 8th Karmapa
is an advanced meditation for which one can ask for authorization to practice after having completed the Foundational practices.
This weekend is good for those who want to get explanations to start with this meditation, as well as for those who already are practicing it.
Maxi from Graz took refuge from Lama Ole 1983,

is co-founder of the Buddhist centre in Graz 1986
and since then resident there with family and other friends.
Since 1986 she also is headboard-member of Karma Kagyü
Austria.
The lectures will be in English.
Price for one lecture is 60 Kr. / 8 €
For the meals and accommodation, you can find the prices here.
Please register here