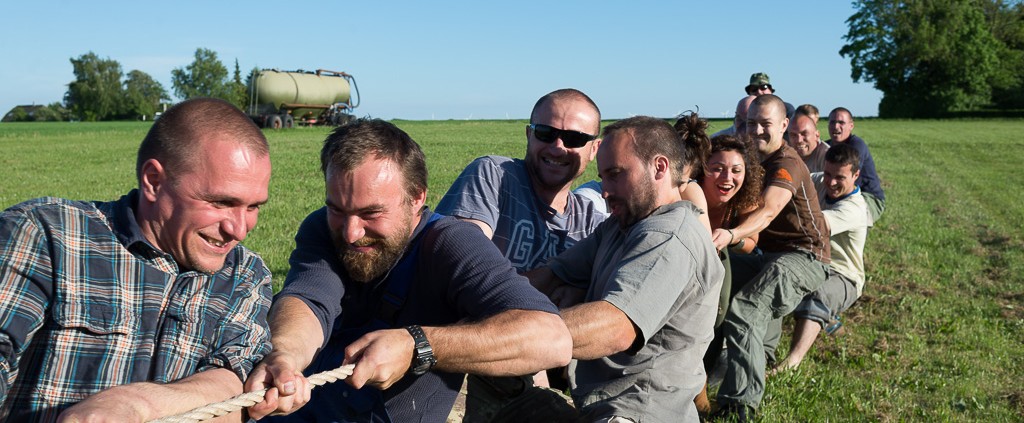 Sounds of saws and hammers, the smell of wet paint, freshly turned earth, flowers and barbecues – all of this is to be expected this time of year, as friends join us at Lolland Retreat Center for the building up weekends to get everything ready for the annual Summer Course.
On the second building up weekend in late May not only our diligent Danish and German friends came, but we were also pleasantly surprised by eighteen Czechs with a great deal of surplus who took time off from working on the stupa in Tenovice to come and help us for the weekend!
Having talented Czech carpenter friends here made a couple of the more difficult jobs materialise as if by magic. They ripped up the old floors in two of the retreat rooms, then sealed, insulated and laid new floors, as well as disposing of one of the huge but unfortunately dead trees in the driveway. But there was also plenty to do for everyone else with window and pillar painting, garden work, cleaning and cooking.
Such joyful work flowed naturally into play – on Saturday afternoon a few friends organised some spontaneous games for after work relaxation: tug of war, running races with weights and obstacles, wood chopping races, log throwing and a struggle for the legendary hammer of heroes.
If the Summer Course will be half as enjoyable as this weekend, it'll be one of the best ever!
This slideshow requires JavaScript.
http://buddha-lolland.dk/dev/wp-content/uploads/20140524_BuildingUp_DSC_6509_rMB.jpg
684
1024
matt
http://buddha-lolland.dk/dev/wp-content/uploads/LollandLogo.gif
matt
2014-06-01 11:24:02
2014-06-14 13:14:14
Pulling Together to Build Up!